The solution to get on top of your coolant mangement along with reliable and traceable documentation.
All within the click of a button.
How does the Liquidtool
Instructor work?
The Liquidtool Instructor
consists of 2 products: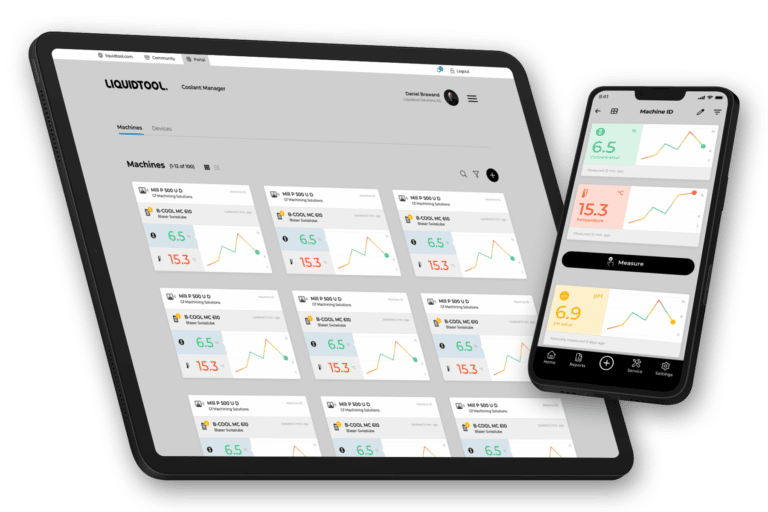 Full Visibility and Transparency
Our digital dashboard gives you an overview of your machines and its measured values at any time. You have access to current and historical data, no matter when or where you are. Thanks to clear and fast identification of causes, we enable targeted intervention. If desired, you can add further measured values manually. It is possible to generate PDF reports and download your data as CSV files.
You can now focus entirely on your tasks at hand. The system will inform you if any intervention is necessary. Our intelligent messaging system provides you with a wide range of information, which you can easily activate or deactivate with a click of a button. You will only receive the information relevant to you and your work.
Regularly monitoring coolant is essential for a smooth and stable process. Thanks to the Liquidtool Instructor, you have complete control at all times. The Sensor automatically checks the cutting fluid by measuring the concentration and temperature and storing the measured values in the cloud-based platform.
Our support team will be happy to assist you. For simple questions, our chatbot William supports you in the Liquidtool app and on MyLiquidtool. He will create a ticket on your behalf and ensure its processing on request. Alternatively, you are welcome to call us directly or reach us via contact form. In the Liquidtool App and in the LIQUIDpedia you will find more useful information, tips and tricks.